Our website uses cookies. By continuing to browse our site you are agreeing to our Cookie Policy.

With In-Line Repairs and Minimal Downtime, Our Cost Savings are Significant
Are you tired of the time and expense necessary to cut out and weld in place Metal-Seated Ball Valves? Keep your plant operating smoothly and cost-effectively with Yarway Welbond valves. Our valves are designed for high pressure, high temperature service in modern steam power plants and related installations as required by the ASME® boiler code.
See for Yourself: Compare the Life Cycle Costs of the Yarway Welbond vs. Metal-Seated Ball Valves.
Over a 5-year period, the Yarway Valve costs less than 1/3 the cost of a traditional Metal-Seated Ball Valve. With repair costs of only $200/repair, the Yarway Valve is worth serious consideration.
Reseating Demonstration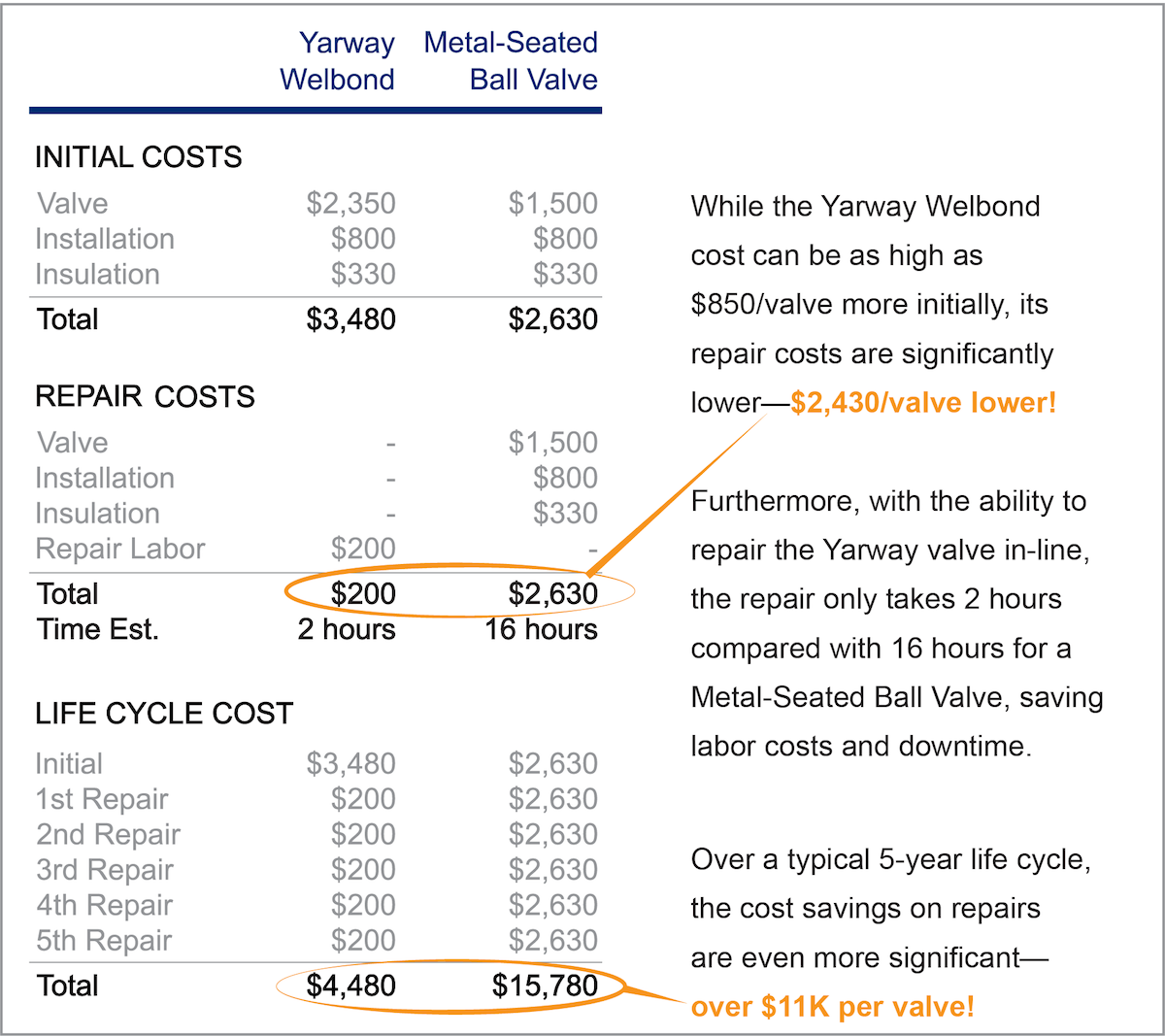 Imagine Your Savings if You Have 20, 50, 100, or More Valves!
Yarway Welbond
Features & Benefits
---
High Dependability. One-piece forged body without pressure welds, seal welds, pressure-containing threads or gaskets, body/bonnet joints, or any of their related problems.
Greater Durability. Solid Stellite® disc and seat ring all but eliminates cracking. Extra thickness of the seat ring also provides enough material to renew the seating surface over and over again.
High Flow Capacity. Generous port sizes and disc retraction well beyond that required for optimum flow. These features help to minimize flow velocities, and therefore, decrease the erosive forces, which shorten the life of the seat and disc.
Fast & Efficient In-Line Repair. Stem, disc, and packing can be quickly removed through the yoke, and the seat fully exposed.
Don't go through another planned shutdown without the Yarway Welbond and Proconex. Contact Proconex to learn more about how you can benefit from Yarway Welbond Valves.
Interested in learning more about our products? Request a quote by clicking on the plus sign below.
We Have the Valves You Need, When You Need Them
Proconex has an extensive inventory of
control
,
isolation
, and
pressure relief/safety valves
—all the
brands
you need. We stock most valves and related devices at one of our three regional warehouses and have access to many more through our Emerson partnership. When it comes to valve automation, we offer the largest portfolio of actuators and controls available in the market today. We have the applications experience and customization capabilities to find the optimum solution for your valve automation needs. In addition, we offer quick delivery and a range of services to keep your plant operating safely and efficiently.